Our Story
Blue Cork Winery and Vineyard is an Italian and Greek owned winery and vineyard. The space where this beautiful vineyard now stands was once just vast farmland; however, owners Michelle and Angelo Tantaros purchased the land in 2012 and worked for years to turn it into what it is today. In May 2014, they planted their first vines; in Spring 2016, they planted their second set; today, they are proudly producing a variety of natural, distinctive wines from their plantings.
Blue Cork wines are unlike any other local wineries' largely due to the background of its owners. Having grown up in Greece on a farm and vineyard, Angelo Tantaros brings both his heritage, and the traditional winemaking practices he learned in his youth, to Blue Cork's wines. As a young man, he learned about winemaking, cultivation, and harvesting from his family, especially his father, Dimetri Tantaros. However, in order to pursue his dreams, he left his family and came to America by himself, with just the dirt under his fingernails, at the age of 20. Despite those challenging early years and initially struggling to make it on his own, Angelo fell in love with America; after meeting Michelle in a pizza shop a few years later, he fell in love with her too.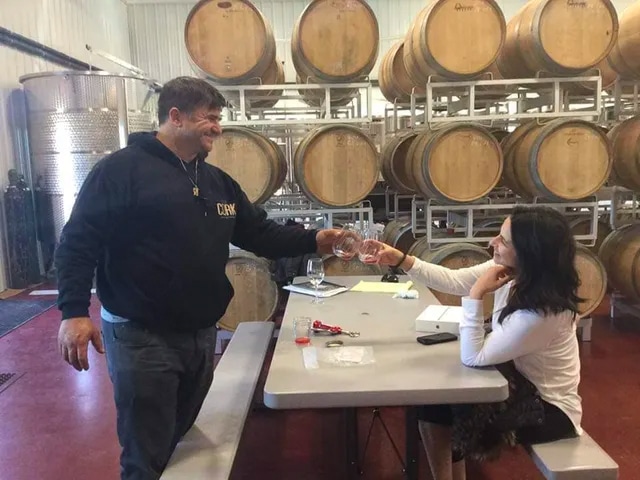 Michelle learned everything she knows from both of her parents. She grew up looking up to her father, a successful businessman and landscaper, and her mother, who had a green thumb and could grow anything at which she tried her hand. As a child, she saw with her own eyes the determination and love it takes to grow both plants and ventures – a lesson she has continually put into practice over the years as she's shaped two businesses.
Angelo and Michelle are focused on continuing this journey and honoring their values and traditions through creating delicious tasting wine to enjoy with their friends, family, and customers. They hope you are as excited to visit Blue Cork Winery as they are to have you. The best is yet to come!
Drop us a line! Our team is happy to help.